ABOUT THE 3THREE BRAND
OUR WHY
As practitioners of Jiu-Jitsu, we often find ourselves completely immersed in the art form, living and breathing the lifestyle. Despite this, I noticed a lack of lifestyle brands that truly catered to our unique needs and interests. This prompted me to establish my own Jiu-Jitsu-inspired brand, where each item is handcrafted and individually numbered.
The emblem's versatility allows it to evolve and adapt to various apparel without losing its core identity, making it as dynamic as the sport it represents.
Now, you might ask, "Why 33?" Growing up, 33 held a special place in my life; it was my favorite number. Beyond personal sentiment, the number carries deep biological and spiritual significance. The human spine consists of 33 vertebrae, symbolizing the union between physical and spiritual aspects of life. This connection parallels Jiu-Jitsu's blending of physical techniques and inner spirit.
In numerology, 33 is deemed a "Master Number," representing the apex of spiritual consciousness and the potential for spiritual growth and enlightenment - an apt metaphor for the journey of a Jiu-Jitsu practitioner.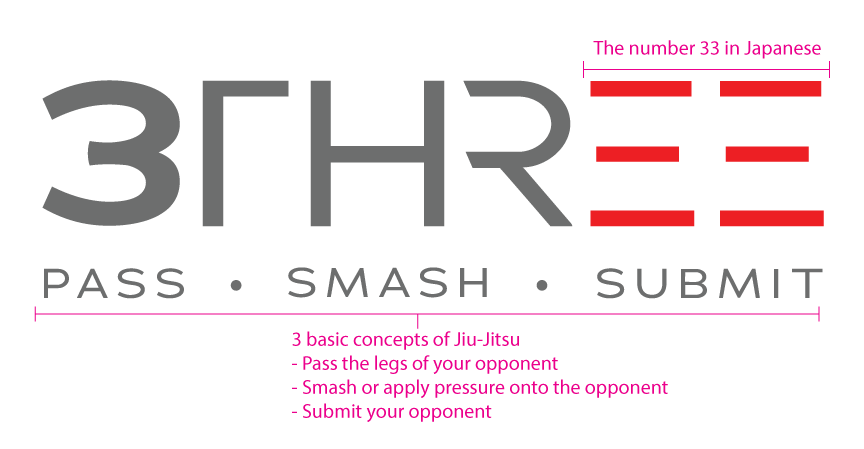 THE 3THREE LOGO
Our logo, subtly intertwines elements as an homage to Jiu-Jitsu's Japanese origins, the number 33 features prominently in the design. This not only connects us to the roots of the martial art but also resonates personally as a significant number in my own life.
Our brand's tagline, 'Pass, Smash, Submit,' embodies our commitment to this journey, capturing the essence of Jiu-Jitsu while promoting a lifestyle that goes beyond the mat.